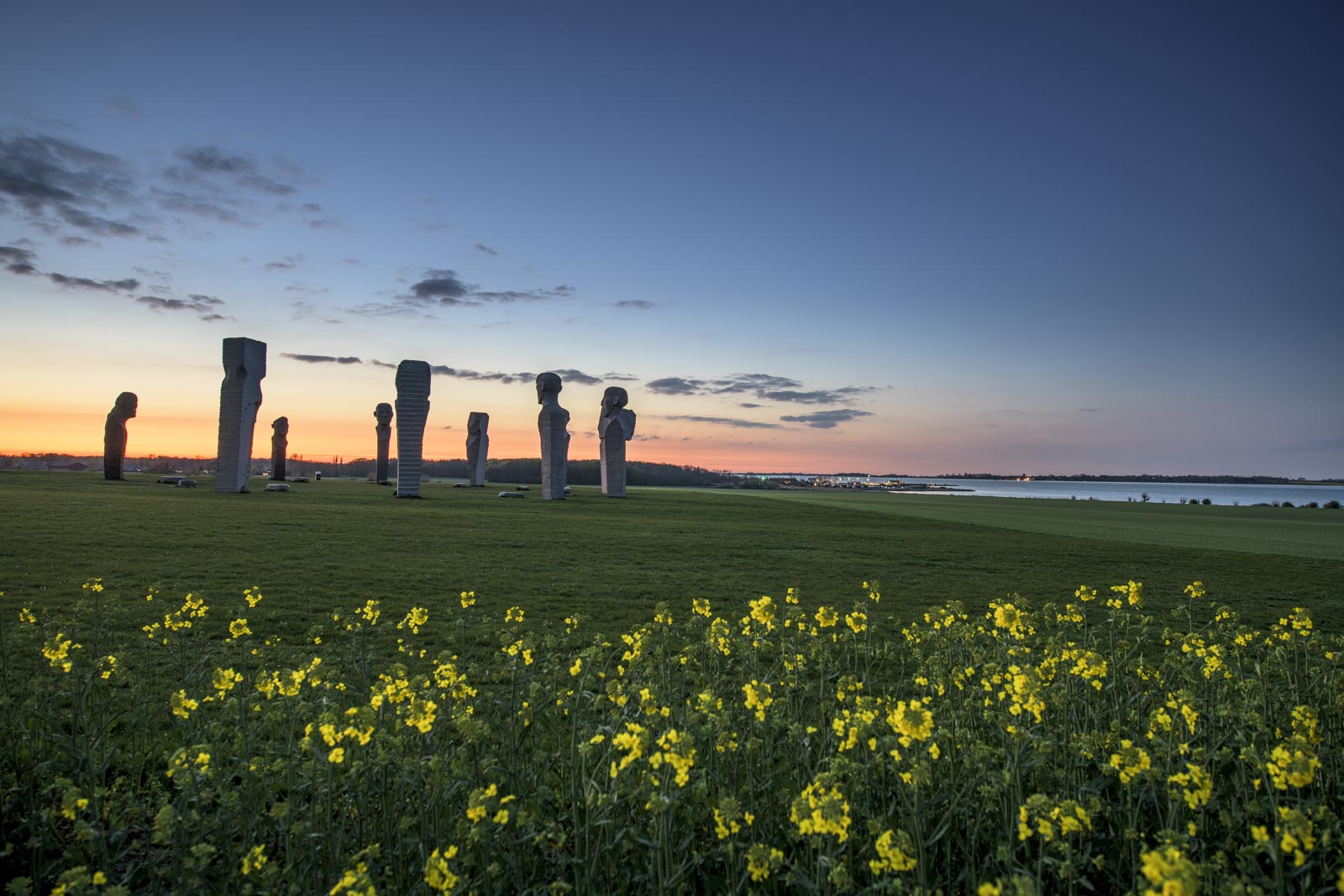 Photo: Torfi Agnarsson © Thomas Kadziola
Experience
the Dodekalitten artwork
Sculptor Thomas Kadziola and music composer Wayne Siegel are the artists behind Dodekalitten.
Enchanting stone sculptures 12 years in the making. Work on Dodekalitten began in 2010 and is still ongoing.
Composer Wayne Siegel composed a sound installation especially for Dodekalitten that forms part of the overall artwork.
A unique monument with views of Bronze Age burial mounds and the smålandsfarvandet. An artistic landmark for Lolland. Follow the heart path and look forward to the sight that awaits you. It's worth every step.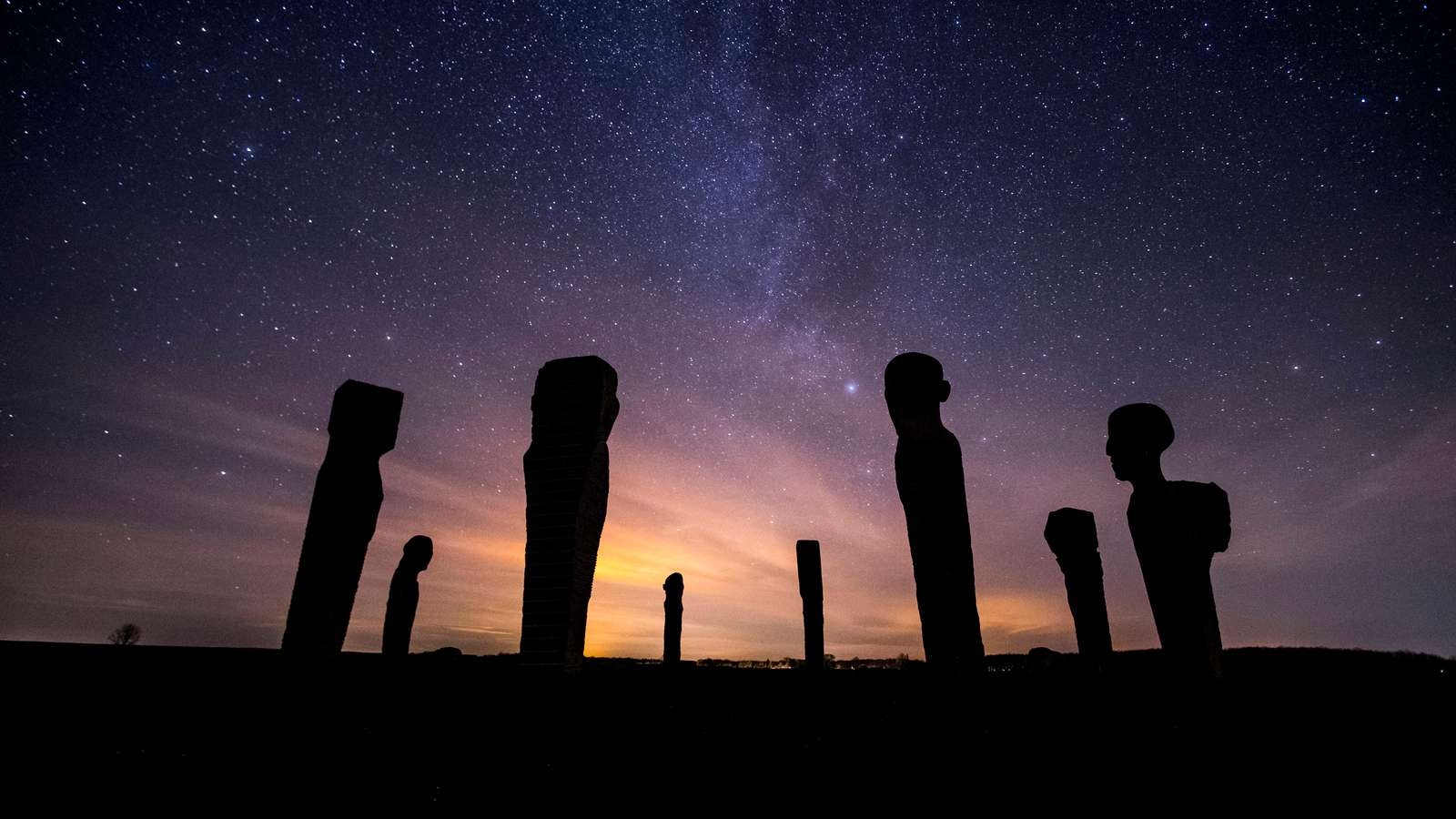 Photo: Per Rasmusen © Thomas Kadziola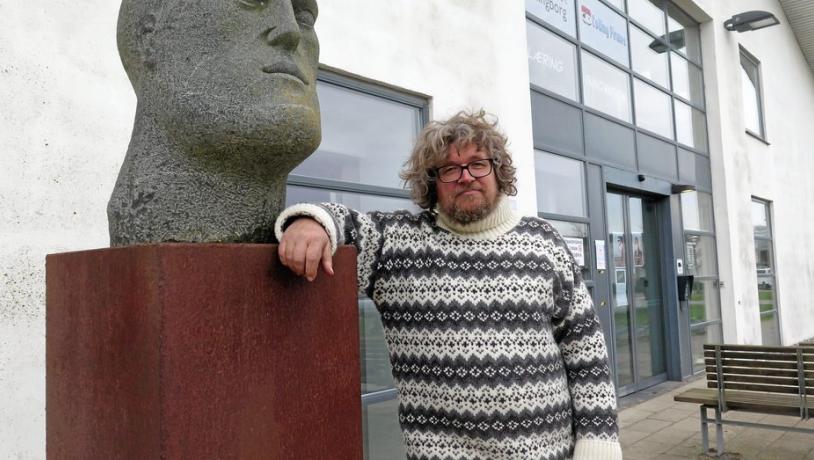 Photo: Lars Christensen
Born in 1962. Thomas trained as a sculptor and got his debut at the Artists' Autumn Exhibition in 1989. He has worked with stone, iron, bronze and wood – and people are often his main subject. Thomas is known for his stone heads, which can be seen all over Denmark: Dronninglund in Vendsyssel, Svendborg on Funen, Copenhagen, as well as on Lolland-Falster, where he lives today. Dodekalitten is his masterpiece and the largest installation made to date. The tallest of the stone sculptures measure more than 9 metres in height and have taken years to make. Thomas Kadziola has participated in a number of international symposiums and is currently part of the stokrosebanden artist association in Nykøbing Zealand.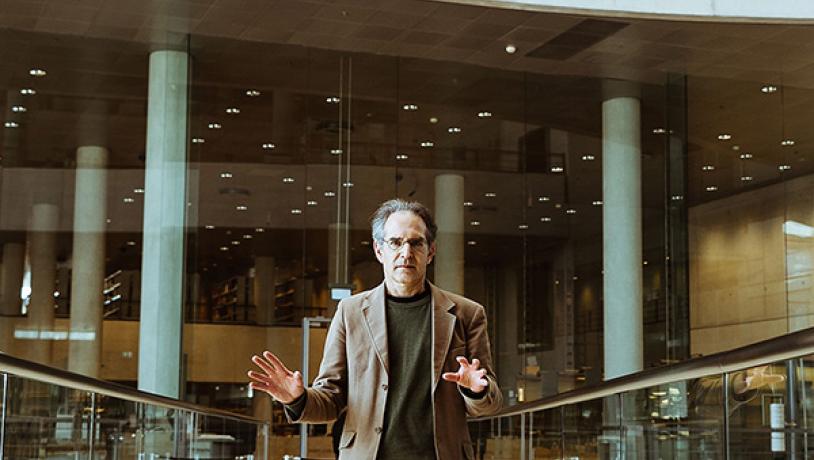 Photo:Wayne Siegel
Born in 1953 in America, Wayne has lived in Denmark since 1974. He was originally inspired by American folk music, African-American blues and avant-garde rock. He graduated from the University of Santa Barbara and the Aarhus Conservatory of Music. Wayne has been teaching in Denmark since 1986, was head of DIEM (Danish Institute for Electronic Music), and from 2003 to 2018 was a professor at the Royal Academy of Music in Aarhus. Computers and electronic instruments are part of his work, and alongside solkreds (Sun Circle) composed for Dodekalitten, Wayne has produced a permanent 12-channel sound installation Outside-In for the Black Diamond in Copenhagen.
Photo:Thomas Kadziola
Dodekalitten is a work in progress with a plan to complete 12 sculptures by 2025. All made by sculptor Thomas Kadziola. Work on Dodekalitten in the Lollandian Alps began in earnest in 2010, when the site at Ellevehøj was formed. Then it was a case of heading off to quarries in Sweden to find the perfect material for the artwork. The first stone sculpture was completed in 2012. The next followed in 2013, while 2014 saw the inauguration of the four-stone Dodekalitten on Ellevehøj: Two finished and two raw. Several sculptures now form part of the circle, which will be expanded continuously. Come and see the work in progress for yourself!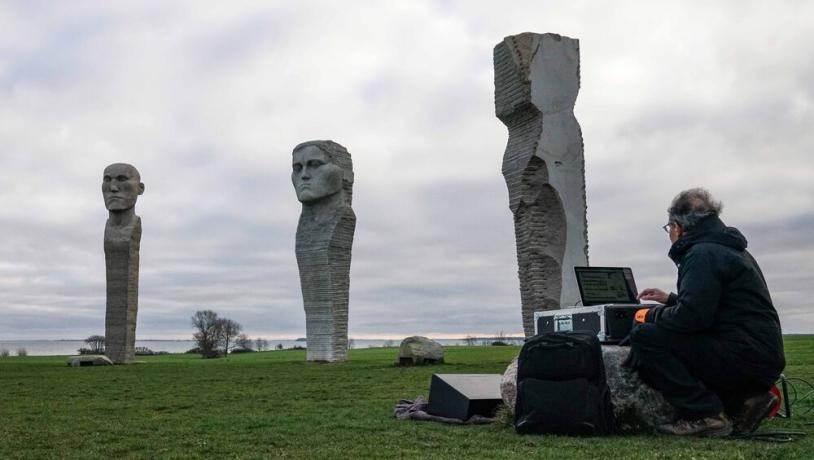 Photo:Thomas Kadziola
Solkreds is a permanent sound installation composed by Wayne Siegel especially for Dodekalitten on Lolland. The sound comes out of granite sitting stones. One next to each sculpture. The sound is alternately audible and silent, and consists of electronic voices, one in each speaker. The voices form shifting harmonies, which develop slowly over time. Sometimes loudly. Sometimes quiet. The music was inspired by the nature of the South Sea Islands, which can be both beautiful and harsh, and everything in between. Solkreds is a permanent installation.