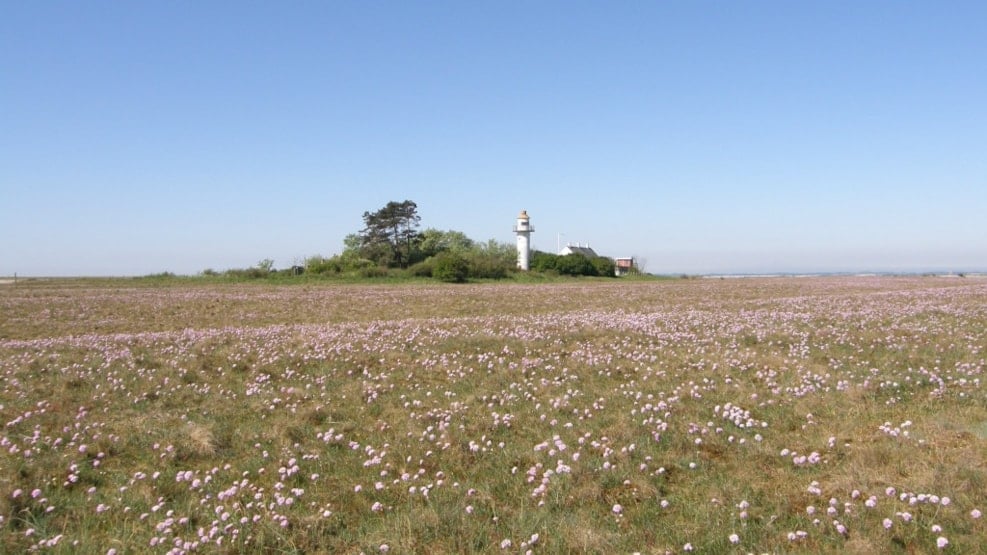 Albuen – natural area
At Albuen ('The Elbow'), the roaring Langeland Belt and the quiet fjord unite into one and becomes a beautiful and unique natural wonder
Albuen is an isthmus located in the Nakskov Fjord Nature Park and is characterised by beautiful views, fascinating scenery, and lovely hiking and cycling routes. Albuen is made from small stones and sand that have been carried there by the water over thousands of years. The point lies very low, which from a distance gives a breathtaking impression of the houses standing on the water. You can walk the all the way out to Albuen or arrive with the historic Post Boat from the coast.
The unique flora and fauna of Albuen
The fauna on the point is special, as several interesting birds breed in the area, and on warm evenings, you can hear the rare natterjack toads. The area is particularly breathtaking when the yellow bedstraw, sea pink, and white yarrow flower, as large parts of Albuen are covered in beautiful yellow, pink, and white colours.
Albuen's outdoor activities
When hiking on Albuen and cycling along the fjord, you really get to experience the coast and the fascinating landscape. There are also opportunities for coastal fishing, kayaking, and surfing. In the Naturlandet app, there are many more trips and experiences in nature.
The cultural and historical experiences of Albuen
Today, Albuen still bears witness to the historical importance of the area. Thus, traces remain of the great herring markets of the Middle Ages, just as the lighthouse and the coastal lookout tell of a bygone era.