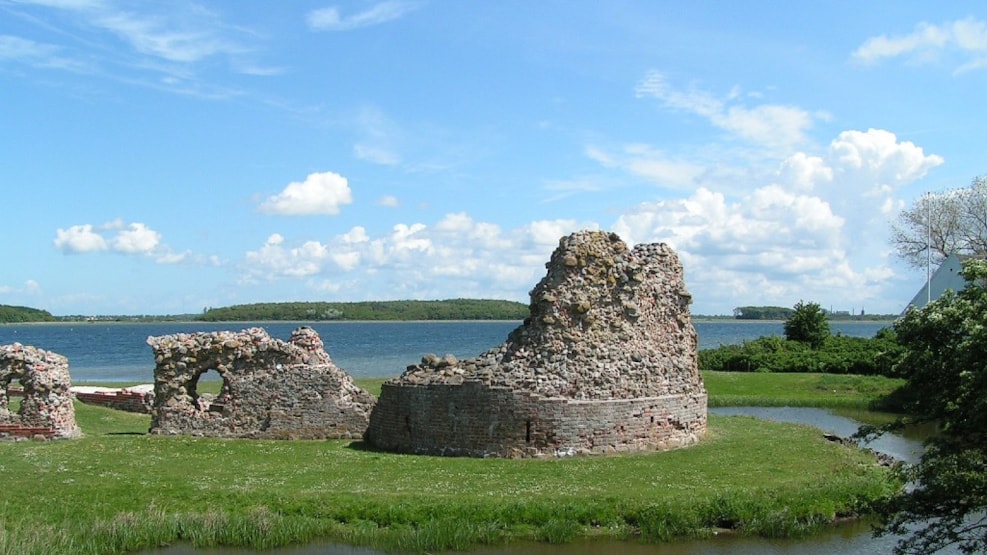 Cultural and historical island experiences
Explore the cultural gems of Nakskov Fjord and discover ancient ruins, dolmens, and idyllic fishing towns.
Enehøje – the largest island in Nakskov Fjord
Polar explorer Peter Freuchen owned and lived on the island from 1926-1940. He erected a fascinating monument here of whale jaws, commemorating Freuchen's polar expeditions, particularly in Greenland.
The castle ruins on Slotø
Explore the remains of Europe's oldest shipyard, the castle ruins of Engelsborg. The castle was built around 1509 by King Hans. In the 1500s, the island was strategically located, partly because it could protect against incoming ships to Nakskov.
Langø's maritime experiences
Langø was incorporated into Lolland in the 1800s by the building of dykes, so Langø is now a peninsula. You can still enjoy the sight of the old, wooden fishing boats in the harbour. The town is steeped in maritime history, with its cosy fishermen's cottages and quays where trammel nets are dried and cleaned. At Langø's highest point, you can enjoy the unique view of the fjord and explore the 6,000-year-old dolmen.
Avnede Beach – experience the Stone and Bronze Ages
At Avnede Beach, there is no water or beach left, but here, a few kilometres east of Nakskov, there are several burial mounds and dolmens worth a visit. The long barrow in the forest is beautifully situated in a clearing. Nearby, in Torpe Forest, there is a cluster of twelve burial mounds and several small barrows.
Island hopping in Nakskov Fjord
For an experience in the fascinating archipelago, you can go on a trip with the Post Boat, which organises island hopping to some of the smaller islands and the Albuen isthmus. You can also spend the day at Hestehovedet Beach, where you can visit the island of Kuddeholm by a small bridge.